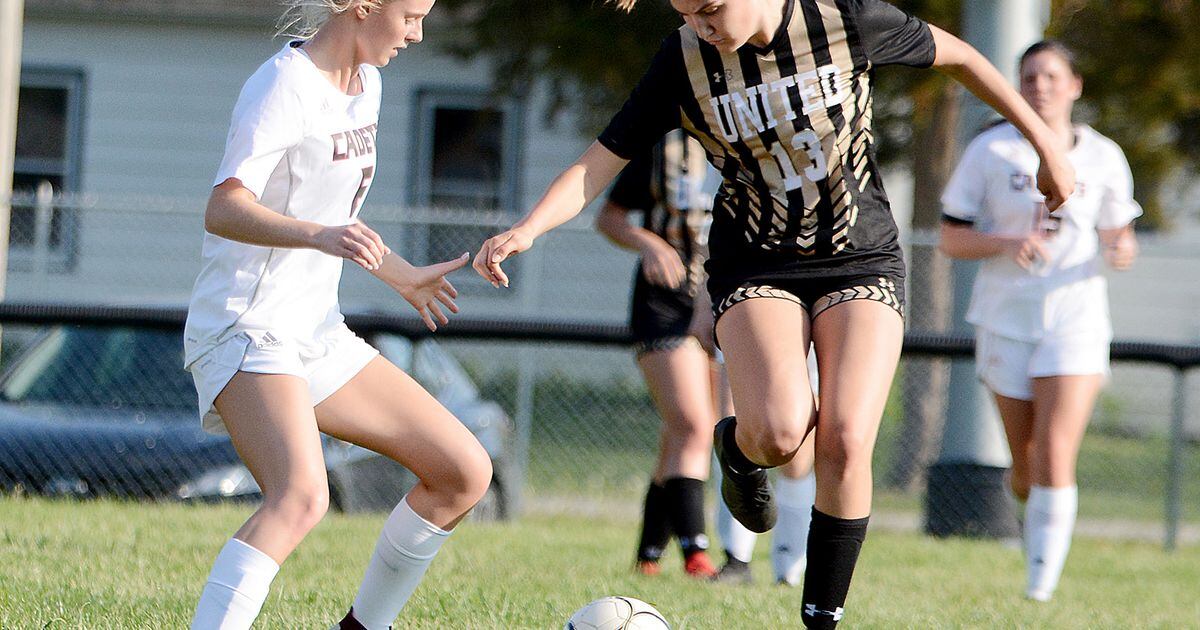 MAXWELL — Central Iowa United's girls soccer team features players from five different schools. And since the first week of the season, it's hard to tell the program involves so many moving parts.
CIU was outscored 5-1 in its first two matches of the spring but have since won five of its last eight matches.
And head coach Sadie Jones said it's been the hard work her team has put in at practice that has helped the turnaround.
"We struggled in our first few games on crossing and switching the field," Jones said. "We've been doing tons of drills since the first week of the season. We started out rocky but have since played much better. You can't tell we are five different schools."
Central Iowa United pulled away from Iowa Falls-Alden with four second-half goals on Monday during a 5-2 home win at Sullivan Field.
CIU led 1-0 at halftime before pulling away with a big second half.
"The girls just executed what we talked about at halftime," Jones said. "My message was that it was 0-0 at the half and we needed to put a few more goals away. And once we got one, we got another and just continued to put them away."
Central Iowa United (5-5) broke a scoreless draw in the 18th minute when Brooke Christie scored her fifth goal of the season. Reagan Franzen took the initial shot but the ball came back to her and she dropped it back to Christie, who put it away from just outside the keeper box.
Jones wanted more from her team at halftime. A one-goal lead was not going to be enough.
Her squad responded with a big second half. Izabell Voelker made it 2-0 12 minutes into the second half. This time, Christie set up the goal with her fourth assist of the season.
Baxter junior Lilie Vansice tallied a pair of second-half goals for CIU. Her first tally came a little more than a minute after Voelker's and it was set up by Baxter senior Cassy Berg.
Christie's second goal of the match was put past the IF-A keeper two minutes later. Christie sent the ball to the corner of the goal and Kate Hutchinson got her hands on the ball but it wasn't enough to stop it from going in.
"We had plenty of opportunities tonight but just couldn't finish," Jones said. "Once we got one, we got the confidence and were able to tuck more away.
"We had better communication in the second half, too."
Vansice's second goal of the match and team-leading eighth of the season came in the 62nd minute and made it 5-0.
Iowa Falls-Alden (2-5) scored twice in the final 12:25. Abigail Ites scored both goals and each one came on a 40-yard free kick that soared high into the air and got to the back of the net over the head of both CIU keepers.
Elise Robertson made three saves in goal for CIU in 68 minutes. Gabby Erickson played the final 12 minutes and allowed the second goal.
Central Iowa United had a 29-5 advantage in shots and a 17-3 surplus in shots on goal.
Ballard 4, Central Iowa United 3
MAXWELL — Central Iowa United scored three goals on its six shots at the goal but couldn't hold a halftime lead against Ballard at home on Thursday.
CIU led 2-1 at the break but Ballard scored three in the second half to rally for the 4-3 victory.
Christie put in her seventh goal of the season and dished out her team-leading fifth assist of the spring to lead the CIU offense. Maggie Pritchard also scored her first goal of the season and Tori Bienfang added her third of the year but CIU dropped to 5-5 on the season.
Robertson made 12 saves in her 67 minutes in goal and Erickson stopped five shots in her 13 minutes as the CIU keeper.
BOYS
Pella Christian 2, Central Iowa United 1
PELLA — Andrew Tollefsen scored his first career varsity goal and Baxter freshman Ben Richardson tallied his first-ever prep assist, but Central Iowa United's boys soccer team fell 2-1 to Pella Christian on Monday night.
The Eagles led 2-1 at halftime and the score held up as they improved to 2-8 on the season.
Central Iowa United got five saves from keeper Tanner Scroggins.
Ballard 3, Central Iowa United 1
HUXLEY — Corey Fleener scored two goals and Obi Soash had one goal and two assists as Ballard led 3-0 at halftime and defeated Central Iowa United's boys 3-1 at home on Thursday.
The win pushed Ballard to 3-8 on the season, while CIU fell to 2-7.
Greene County 7, PCM 0
JEFFERSON — Class 1A No. 12 Greene County led 5-0 at halftime and the Rams moved to 8-3 on the season following a 7-0 home victory during Heart of Iowa Conference play on Monday.
Jose Velazco tallied two goals and one assist, Gesser Aguilar delivered three assists and Alex Roberts put in a pair of goals as the Rams (8-3 overall, 1-0 in the conference) won their second straight match.
Nathan Behne added one goal and two assists and Gabe Ebersole stopped all four of PCM's shots on goal.
It was the second straight loss for the Mustangs, who dropped to 2-8 overall and 0-2 in the HOIC.