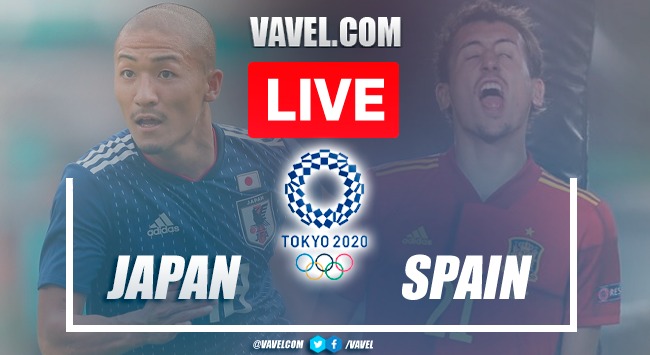 Game over!
Spain will be a medalist in Tokyo 2020. La Roja' gets its ticket to the final where it will dispute the gold against Brazil.
118′
TANAKA Ao comes out and HASHIOKA Daiki replaces him.
117′
GOOOOL. Spain gets the desired 1-0 after a service from Oyarzabal that is taken advantage of by Marco Asensio.
110′
Spanish captain Jesús Vallejo is cautioned for a foul on Yuki Soma. Japan is awarded a free-kick
107′
The second half of the TE begins. Spain substitution, Marc Cucurella goes out, Juan Miranda comes in.
105′
First overtime ends. There will be a change of field. In case of a tie, the series will be defined by penalty kicks.
105
Rafa Mir wins it over the top but Tani keeps his shot out of the net.
102′
Japan had it! Maeda wins in the middle of the mark and heads the ball over. The ball goes over
87′
Zubamendi replaced by Moncayola
Firts Extra Time
The first overtime begins. Japan substitutions Ritsu Doan and Takefusa Kubo are replaced by Daizen Maeda and Koji Miyoshi.
90'+4′
Regular time is over. There will be overtime
90′
Four minutes of compensation are added
89′
Mikel Oryazabal does not connect comfortably and continues to leave the hosts alive.
86′
Japan is saved! In a double play Tani is already a factor in keeping his goal clean sheet.
84′
Pedri Gonzalez is replaced by Marco Asensio
79′
Kubo! Japan takes the lead and the Merengue star puts Unai Simon to the test
75′
Tani makes a great save. Spain misses it
68′
Soler unbalances and finds depth in the last quarter of the area
62′
Double Spanish change. Dani Olmo and Mikel Merino leave, Javier Puado and Carlos Soler enter, respectively.
59′
Double Spanish change. Dani Olmo and Mikel Merino leave, Javier Puado and Carlos Soler enter, respectively.
57′
The play was reviewed and the penalty was overturned. The Japanese defender reached the ball well.
55′
Penalty for Spain! Maya Yoshida commits a foul on Merino. The action is reviewed by the VAR
51′
Mikel Merino is painted yellow in a confusing play with Yuta Nakayama
46′
Spain is saved! Ritsu Doan generates a shot that passes very close to the Spanish goal.
45′
Action resumes for second half
45'+1′
The first half ends. The teams are tied at 0-0, Spain has been superior in these first 45 minutes.
45′
One more minute of added time will be played
43′
Takefusa Kubo presses on the baseline and forces the corner kick.
39′
A great save by the goalkeeper, Rafa Mir was on his way to the goal, beating the back of the defense. The goalkeeper anticipates well
31′
Mikel Oyarzabal connects well with his instep, the ball goes over the top. Spain is encouraged to try from half distance
27′
Merino fouls Ritsu Doan
13′
Yellow card for Oscar Gil
15′
Rafa Mir announced the first but was flagged offside
9′
Out of place for Japan, the Japanese press forward
5′
He misses it! Spanish captain Merino tries to get his head to the cross but the ball goes wide.
3′
Foul on Oyarzabal on the edge of the area
Game starts
Opening whistle for Spain vs Japan. A place in the final is at stake
Spain substitutes
Jesús Vallejo, Marco Asensio, Carlos Soler, Jon Moncayola, Javier Puado, Juan Miranda, Iván Villar
Japan substitutes
Keisuke Osako, Koji Miyoshi, Daizen Maeda, Daiki Hashioka, Yuki Soma, Ayase Ueda, Ayumu Seko
Japan starting lineup
Kosei Tani, Hikori Sakai, Yuta Nakayama, Kou Itakura, Maya Yoshida, Wataru Endo, Takefusa Kubo, Ritsu Doan, Reo Hatate, Ao Tanaka, Daichi Hayashi
Spain starting lineup
Unai Simón, Cucurella, Pau Torres, Éric García, Óscar Gil, Mikel Merino, Zubimendi, Pedri, Oyarzabal, Rafa Mir, Dani Olmo
Spain to play all its cards
Japan want gold
Yuta Nayakama mentioned in a press conference that they will fight for the gold but are not under pressure to win it "Our will to win the gold medal is getting stronger and stronger, but we must recognize that we have come this far by taking one step at a time. We will try our best to get a victory over Spain."
Medal experience
Tune in here Japan vs Spain Live Score
Do not miss a detail of the match Japan vs Spain live updates and commentaries of VAVEL.
How to watch Japan vs Spain Live Stream on TV and Online?
Japan last lineup
Spain last lineup
1. UNAI SIMÓN; 3. CUCURELLA, 4. PAU TORRES, 12. ERIC GARCÍA, 18. ÓSCAR GIL, 16. PEDRI, 6. MARTÍN ZUBIMENDI, 8. MIKEL MERINO, 19. DANIEL OLMO, 11. MIKEL OYARZABAL y 7. ASENSIO.
Spain key player
Watch out for this player from Japan
Midfielder Takefusa Kubo is a great promise of international soccer. At 24, he is one of Real Madrid's promising stars.
Japan
The hosts opened with a 1-nil win over South Africa and in their second match had the best display of the group stage against the Mexican National Team, where they defeated the Tricolor 2×1. To close the three must-win games, the Nipponese beat the French national team 4-0.
Welcome to VAVEL.com's coverage of the 2020 Tokyo match: Japan vs Spain Live Updates!
My name is Alejandra and I'll be your host for this game. We will provide you with pre-game analysis, score updates, and news as it happens live here on VAVEL…