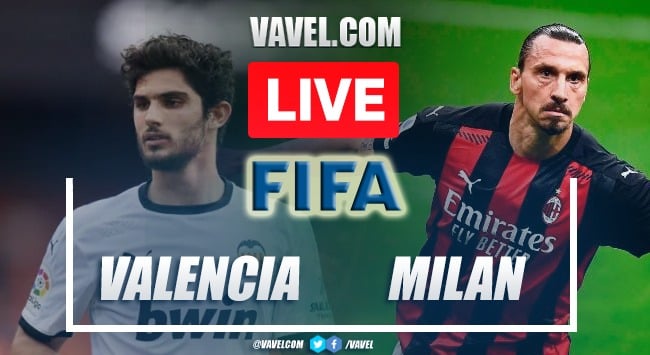 Thank you!!
Thank you for following today's match in VAVEL, im Santiago Suarez, see you another Day!
Today's match penalties!!
Ant the penalties are begining!
Min 90: And the match ends!!
The match is going to go to penalties!
Min 85: double change for Valencia
Min 82: A fight in Mestalla!!
Krunic fouls Gaya pretty strong, and ends in a Big fight between many players!! ends in a yellow card for Rade Krunic
Min 81: one change for Valencia
Min 76: What a run by Theo!!
He dribbles through the whole right side, gets Sobrino with a nutmeg, shoots, but Mamardashvili saves it!!
Min 74: what a ball for Giroud
Theo Hernandez looks up, finds Giroud, but he couldn't shoot, because of a bad control!!
Double change for Valencia!
Min 66: corner kick for Milan.
The corner ends at the attacker who shots at Mamardashvili's hands!!
Min 63: triple change for Milan
Min 60: What a save by Mamardashvili!!
A shot by Brahim Diaz, which is saved by the goalie and sent to a corner kick and ends the play!!
Min 59: yellow card for Valencia
Thierry Correira gets a yellow card after a foul in the midfield.
2 changes for Milan
Min 52: what a run by Thierry Correira!!
Thierry Correia ran all over the midfield he won an aerial ball hit it, but Tatarusanu saved it very well !!
Milan makes a triple change
And the ball is on it's way!! Milan moves it!
Milan move the ball from the center Circle
Half time!! 0-0
A first half where Valencia lacked effectiveness, they had a clear chance, where Cheryshev hit it very badly, but they were very well defensively. Milan have been very good in midfield, controlling it with Brahim Díaz, who has moved the ball very well. Nothing for anyone, 0-0!!
Aaaand the referee ads 2 minutes of added time!
There was not much time wasted, so only 2 added minutes!
Min 42: great ball from Tomori!!
A ball straight to Leao's feet, who shoots, but he's offside!!
Min 32: free kick for Milan
Taken by Castillejo, which ends in offside!
Min 27: corner kick for Valencia
After a blocked shot, Guedes negociates a corner kick, wich ends in Maignan's hands.
Min 25: The match continues
Both teams enter the pitch again
Min 23: coling break!
Both teams have a refreshing moment, because of the hot weather
Min 18: Cheryshev goes alone!!
Cheryshev had a perfect shot!! but he shoots at Maignan's hands!! and he parries it away!!
Min 12: dangerous shot from Milan!!
Castillejo shots, but Valencia's goalie calmly stops it
Aaaaand the ball starts Rolling!
Valencia Start with the posession
Starting XI for Milan
Mike Maignan; Alessio Romagnoli, Fikayo Tomori, Fodé Ballo-Toure, Andrea Conti; Tomasso Pobega, Sandro Tonali; Brahim Diaz, Daniel Maldini, Samu Castillejo; Rafael Leao.
Starting XI for Valencia
Giorgi Mamardasvili, Thierry Correira, Hugo Guillamon, Gabriel Paulista, Jose Gaya, Jason, Alessandro Burlamaqui, Denis Cheryshev, Maxi Gomez, Goncalo Guedes.
Milan players arrive at Mestalla!!
Valencia have no injured players!!
José Bordalás' team comes with all its players healthy and ready for anything, looking to beat Milan for the second time.
Milan don't have any injuries so far!
Milan have all of their players healthy and in good form for the match against Valencia, Pioli could start anyone for this match!
Can Valencia have a better position in La Liga than last season?
Valencia finished in a very bad position in the last La Liga season, they finished in 13th place, 18 points behind European places, now they are doing very well in preseason, and they have a difficult opponent, will they be able to beat AC Milan?
Do not detach yourself from here to follow the Valencia CF vs AC Milan match LIVE
In a few minutes we will share the starting line-ups of both teams as well as information about both teams before starting the game. Do not miss details of the match with minute by minute live and direct on VAVEL.
¡Valencia and Milan are facing off for the third time in this decade!
Player to watch from AC Milan: Fikayo Tomori
Player to watch from Valencia CF: Manu Vallejo
Last XI from AC Milan
Mike Maignan; Alessio Romagnoli, Fikayo Tomori, Davide Calabria, Theo Hernandez; Tomasso Pobega, Sandro Tonali; Brahim Diaz, Rade Krunić, Alexis Saelemaekers; Rafael Leao.
Last XI from Valencia CF
Giorgi Mamardashvili; Hugo Guillamon, Mouctar Diakhaby, Omar Alderete, Thierry Correia, Jesús Vazquez; José Gayá, Alessandro Burlamaqui, Jason; Goncalo Guedes, Maxi Gomez.
When and where to watch the match between Valencia CF and AC Milan online and LIVE
The match will be broadcastED on ESPN 2 and ESPN APP. If you want to see it live and online, VAVEL Mexico is your best option.
Time of different countries to watch the match.
¡Milan are undefeated!
Stefano Pioli's team has played 3 friendly matches of which they have won 2 and have drawn one. the two matches won against Pro Sesto and Modena, they drew against OGC Nice 1-1.
¡Valencia has had a great pre season run!
¡Promising duel!
The Mestalla stadium located in Valencia, Spain, will be the field that will host the match corresponding to international friendlies. The stadium has space for 18,324 people.
Good afternoon to all VAVEL readers!
Welcome to the broadcast of the Valencia CF vs AC Milan match corresponding to a friendly match day. The venue of the match will be at the Mestalla Stadium at 1:30 p.m.