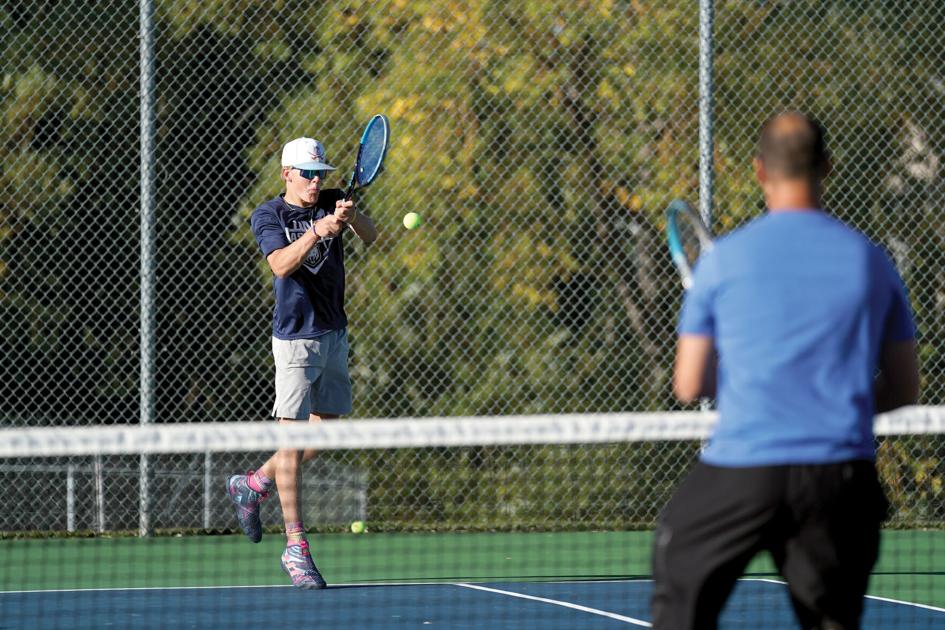 SHERIDAN — Alli Ligocki might play Mario Kart on a Nintendo Wii.
She also might play in a state championship tennis match.
Both are distinct possibilities for the sophomore No. 2 singles player this weekend, as the Sheridan tennis team heads to its state tournament in Gillette. After a season of turnover and growth, the Broncs have set their team up for success on and off the court.
"They're a great group of kids," assistant coach Kelley Glackin said. "They like to have fun. They love playing tennis. It's been pretty fun this year."
In the spring, more than 10 seniors — a third of last year's 32 players — graduated. Glackin and head coach Bob Faurot didn't really know what to expect from their team.
Most of their worries have been assuaged.
"I think (we grew with) our discipline and the culture of the team," Glackin said. "We had some of the seniors and the boys kind of take control of that — so like, working hard every practice, working hard in the drills is something we really harp on."
Sheridan still needs to work on some aspects. They're mostly mental — like simply having the confidence to stay in contention at regionals and state.
Before regionals last weekend, Sheridan High School Activities Director Don Julian came to practice and led the Broncs through a mental exercise. They partnered up, and one person formed a negative thought, closed his or her eyes and stuck his or her arms out. The partner then pushed the person's arms down, which was easy.
Then, Julian told them to come up with a positive thought or memory and put their arms up. It was harder for their partners to force their arms down.
"It was crazy," sophomore No. 1 doubles player Cael Hamrick said. "I didn't think it was that much of your mind."
At regionals, almost everyone placed. So they're staying loose heading into state, which is where Mario Kart, the hotel pool and card games come into play.
"It'll be a good time just hanging out with the team for three days that we're there, and supporting the team and getting supported," Hamrick's partner, junior Jake Woodrow, said.
Glackin and Faurot leave for Gillette Wednesday morning. The rest of the team practices at Sheridan High School in the afternoon before eating a potluck dinner and hitting the road in the team bus afterward.
From Thursday through Saturday, Sheridan will mean business on the court and bond as a team off it.
Hamrick and Woodrow, first-year partners comfortable with each other by now, created some new signals for their state matches.
"For plays we're going to run," Woodrow said.
They can't tell you about them yet.
"Can't get it out there," Hamrick said.
Ligocki feels a mixture of excitement and nervousness. Her ultimate goal is to win state, but she wants to make sure she places after finishing third at regionals.
"No changes this week," Ligocki said. "I know what my game plans are and what I want to do at state."
Then, the season will be over.
"It's hard to believe it's here," Glackin said.
Glackin, who describes herself as "old school," told herself she's not going to cry.