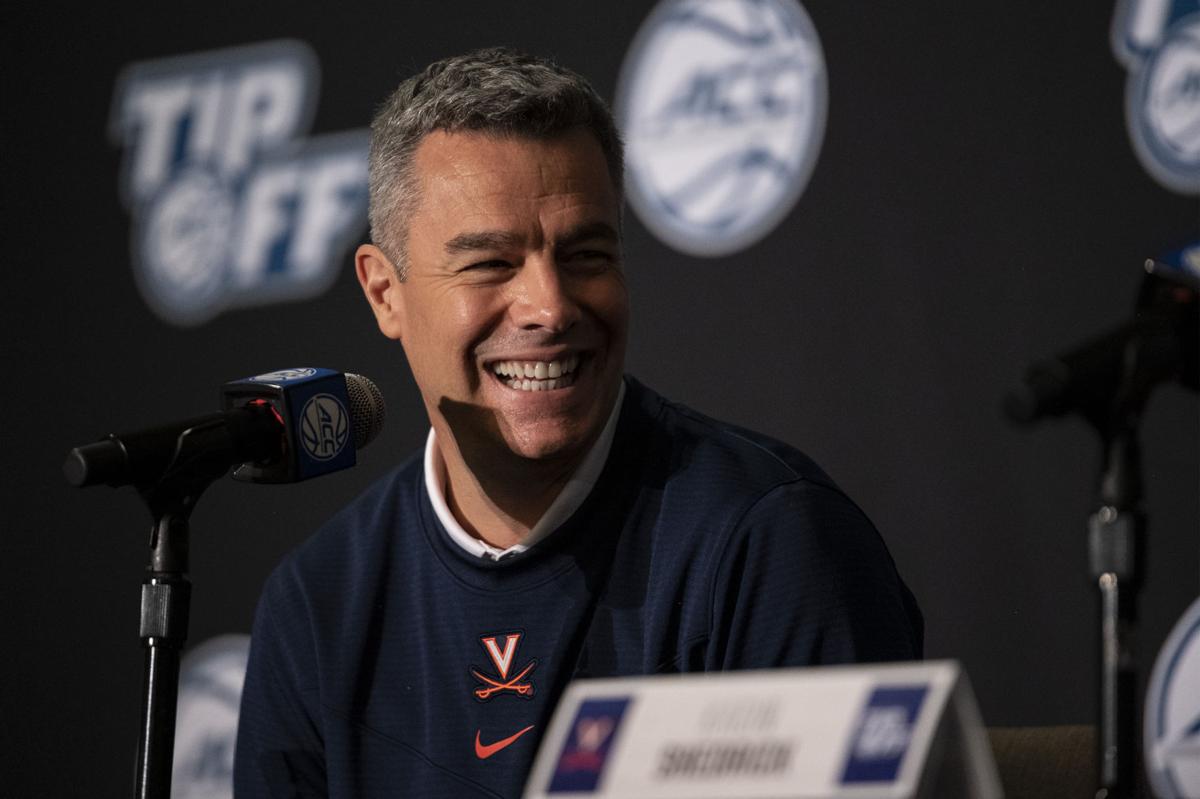 CHARLOTTESVILLE – Before Sunday's annual Blue-White basketball scrimmage tipped off, Virginia coach Tony Bennett had his players pass a microphone and introduce each other to the crowd of a few thousand fans at John Paul Jones Arena.
The player said their names and where they are from. But the real introduction, and the reason anybody gave up a Sunday afternoon in the fall, came when play started.
UVA showed signs of what type of offensive team it will be this season, one less likely to settle for jump shots, one that can attack the rim off the dribble with sophomore guard Reece Beekman and Indiana transfer Armaan Franklin, and one that can score in the low post with sophomore Kadin Shedrick and East Carolina transfer Jayden Gardner.
"This is our squad this year," Bennett told the crowd when the 30-minute scrimmage concluded. "We've got work to do but we're going to play hard."
The 6-foot-6, 246-pound Gardner, a three-year starter at ECU, led the way with 18 points Sunday. Beekman, the hero of last year's last second win over Syracuse in the ACC tournament, followed with 17.
Shedrick, in line for his first significant action as a Cavalier after redshirting two years ago and missing time with an undisclosed illness last season, scored 14.
Franklin, who hit 42% of his 3-pointers last season at Indiana, scored 10 but missed all four of his attempts from 3-point range.
The two transfers were expected to be play key roles this season for a team that must replace Jay Huff, Sam Hauser and Tomas Woldetensae, who were seniors last year, Trey Murphy III, who left early for the NBA, and Justin McKoy, Casey Morsell and Jabri Abdur-Rahim, who transferred to North Carolina, North Carolina State and Georgia respectively.
"When you bring in a transfer that has experience I think it's important that they're coming in to play, to have opportunities to be contributors," Bennett said last week during the ACC's media day in Charlotte. "And that's why we brought them in. They're coming in because they have experience and we need them."
Outside shooting is still a major question mark for UVA going into this season and the team got mixed results from distance Sunday, finishing 8 for 24 from 3-point range.
Senior guard Kody Stattmann offered a surprising amount of perimeter punch, going 3 for 5 from distance a year after sitting out with a medical issue.
Fans also got their first looks at freshmen Taine Murray and Igor Milicic Jr., international imports from New Zealand and Croatia.
Murray showed burst to the rim and the ability to pull up and shoot, finishing with 7 points, including a 2-for-3 day from 3-point range.
The 6-10, 224-pound Milicic demonstrated tremendous defensive versatility, at points guarding all five positions during the workout.
Senior point guard Kihei Clark, the team's most experienced returning player, had a relatively quite afternoon. Though Bennett has said Clark has worked to improve his outside shooting, Clark didn't take a shot until nearly four minutes into the second 15-minute half. He finished with four points on 2 for 5 shooting.
Virginia opens the season Nov. 9 at JPJ against Navy.
#article_links_2.tnt-ads { margin-bottom: 0; } .okanjo .panel { border: 0; } .okanjo .panel-body { padding: 0; }