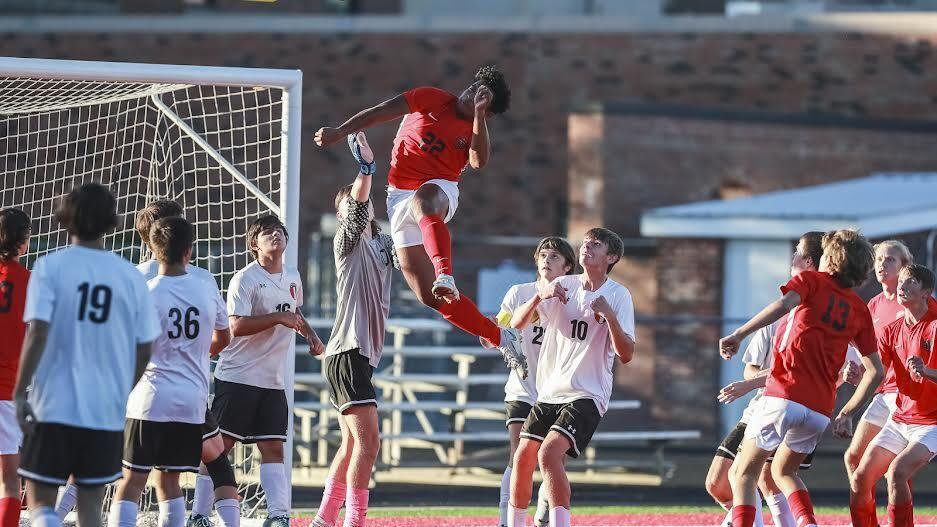 HANNIBAL — For two halves and two overtime periods, Hannibal and Chillicothe played a physical back-and-forth boys soccer game at Porter Stadium on Monday.
The end result was a loss for the Pirates on penalty kicks, with the Hornets coming away with a 3-2 win.
"I think (Chillicothe) came out and they were the aggressors tonight," said Hannibal head coach Eric Hill. "I feel like we got it going as the second half and overtime got going and finally got into the game a little bit more. I don't think we played bad, but I don't think we played as aggressive or physical as we need to play."
Pirates junior forward Drew Porter scored with 16 minutes remaining in the first half off of a corner kick by junior midfielder DaeShon Glasgow to give Hannibal a 1-0 lead.
Less than two minutes later, the Hornets tied it up when junior Sam Reeter scored.
"Their first goal was a thrown-in ball that got sent in," Hill said. "I think our defense thought (goalkeeper) Parker (Terrill) was going to come out. I think Parker thought the defense was going to stay with the run. Honestly what needed to happen was both of those things. For Parker to come out aggressive and the defense to continue to stay with that runner until Parker had it secured."
Chillicothe senior Chase Corbin scored with 24 minutes remaining in the second half to give the Hornets a 2-1 lead.
"(The defense and Terrill) played alright," Hill said. "I don't think they played their best game tonight. We struggled getting the ball cleared at times. We struggled with decision-making at times."
Porter scored his second goal with under 12 minutes remaining in the game off of an throw-in from Glasgow to tie the game.
Unfortunately for Hannibal, Porter would soon be ejected from the game after receiving his second yellow card for taunting.
"The goals were nice, but he shot us in the foot with him not being able to compose himself with the two yellow cards," Hill said. "We played a man down the remainder of the game after his second goal. It's great that he can be big in the air and do the things that we need him to do as far as scoring goals, but he's going to have to get a little bit tougher mentally."
With the game being tied 2-2 at the end of regulation time, it went to double overtime without either team being able to score, setting up penalty kicks.
Chillicothe would win the round of penalty kicks 3-2, with Hornets senior Drake Cosgrove getting the deciding penalty kick goal.
Hannibal (12-6-1) will play at Fulton (12-4) in its next game on Tuesday at 6:30 p.m.
"It's a big week for us because we go to Fulton tomorrow and if we want to keep our chances of possibly winning conference alive, we've got to get this win," Hill said. "We are going to have to do it shorthanded because Drew is going to have to sit this game."
The Pirates will also play at Warrenton (1-12) on Thursday at 6:30 p.m. and host Marshall (11-3) on Saturday at 12:30 p.m.in a four-game week for Hannibal.
However, Hill and the coaching staff are solely focused on Tuesday's conference matchup against Fulton.
"We've got to go to Fulton and play better than what we played tonight," Hill said. "(Be) more aggressive than we did tonight. Honestly, play better than the first time we played them because we just weren't the aggressive team that we needed to be. I'd like for us to come out and play like we did in overtime and the majority of the second half. I think that will give us a good shot to do what we need to do."